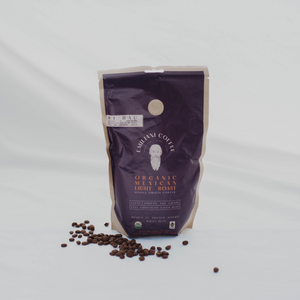 Organic Mexican Light Roast Coffee
Sale price Price $16.99 Regular price Unit price / per
Organic Mexican Light Roast
Our go-to for the light roast lovers out there. This coffee flavor is clean, with apricot and cherry toned acidity and full chocolate laced body, and a soft and sweet finish.
14 oz. of Whole Bean Coffee
Certified USDA Organic & Fair Trade
Single origin coffee ethically-sourced from the Mexico El Triunfo Reserve
Origin: Mexico El Triunfo Reserve
Region: El Castaño, Chiapas
Process: Fully Washed, Sun Dried
In addition to the Fair-Trade price paid to the coop, an additional $.20/pound is paid for a quality and buffer-zone maintenance incentive. Finally, a third premium is paid for the farmer specific lots that we occasionally buy. 
How we do things:
We roast every Wednesday morning in Minneapolis, so you can know you're getting fresh roasted coffee.  A slight difference between the grocery store whose beans have been oxidizing for weeks, if not months, by the time they make it to your kitchen table.
For those wanting the best coffee experience we always recommend buying whole bean coffee and grinding at home. We want you to have the freshest coffee experience. Pre-ground coffee increases oxidation and begins to lose its flavors, aromas, and sugars within 20-30 minutes. Whole bean coffee stays fresh and flavorful for 3 weeks. That being said, we also offer ground coffee! We don't think good coffee needs to be pretentious... So if you prefer to buy ground coffee, then you enjoy yourself some ground coffee g dang it.
We package our coffee in 100% Compostable Kraft bags. The added cost for eco-friendly packaging is worth it to us knowing that our bags won't still be here in 100 years.
Bags include a one-way valve to help preserve freshness.
Who we are:
Emiliani Coffee is a specialty coffee roasting company based out of Minneapolis, Minnesota. We specialize in organic coffees that are ethically produced and roasted-to-order fresh. And we do all of this to bring kids home, giving $1 from every bag sold to organizations that are fighting for kids in the foster care and adoption system.
Dedicated to: Avivah Brown
Every roast at Emiliani Coffee is dedicated to someone we see as a hero who embodied the same love for kids that we see in St. Jerome, the people who have fought for kids. The hope is that through the sharing of their stories, we will all learn from and be inspired by them. This roast is dedicated to one of our modern day inspirations: Avivah Brown.
It only takes 5 minutes of conversation to get a sense of the compassion, strength and love for justice within this woman who has fostered 10 children total, 
7 of which occurred in her days of being a single-woman
. One of the most compelling things about Avivah's story, is the way in which her drive to care for kids goes beyond just what is comfortable or easy, but instead is driven by a deep sense for what is right. 
Today, she and her husband Chris continue to raise their family of fostered and adopted children and model compassion and strength on behalf of children for the rest of us.
Avivah's passion and drive is one that she invites into every facet of her life, as she has given her professional time and energy to work for different non-profits that are fighting for kids. She was one of the first hires at The Sheridan Story, and today is the Director of Development at Safe Passage for Children, a non-profit group that advocates for improvements in the children's welfare system.