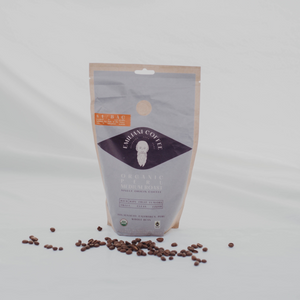 Organic Peru Medium Roast Coffee
Sale price Price $16.99 Regular price Unit price / per
Organic Peru Medium Roast Coffee
Our roast that is made specifically for our medium roast lovers, this coffee is sweet and fruit forward with notes of orange, caramel and spice.

14 oz. or 5 lb. option available
Certified USDA Organic and Fair Trade
Single origin coffee ethically-sourced from Lima Fair Trade Coffee Farm
Region: San Ignacio, Cajamarca, Peru
Process: Fully washed and sun dried
How we do things:
We roast every Wednesday morning in Minneapolis, so you can

 

know

 

you're getting fresh roasted coffee.  A slight difference between the grocery store whose beans have been oxidizing for weeks, if not months, by the time they make it to your kitchen table.
For those wanting the best coffee experience we always recommend buying whole bean coffee and grinding at home. We want you to have the freshest coffee experience. Pre-ground coffee increases oxidation and begins to lose its flavors, aromas, and sugars within 20-30 minutes. Whole bean coffee stays fresh and flavorful for 3 weeks. That being said, we also offer ground coffee! We don't think good coffee needs to be pretentious... So if you prefer to buy ground coffee, then you enjoy yourself some ground coffee g dang it.
We package our coffee in 100% Compostable Kraft bags. The added cost for eco-friendly packaging is worth it to us knowing that our bags won't still be here in 100 years.
Bags include a one-way valve to help preserve freshness.
Who we are:
Emiliani Coffee is a specialty coffee roasting company based out of Minneapolis, Minnesota. We specialize in organic coffees that are ethically produced and roasted-to-order fresh. And we do all of this to bring kids home, giving $1 from every bag sold to organizations that are fighting for kids in the foster care and adoption system.
Dedicated to: George Dennehy
Every roast at Emiliani Coffee is dedicated to someone we see as a hero who embodied the same love for kids that we see in St. Jerome, the people who have fought for kids. The hope is that through the sharing of their stories, we will all learn from and be inspired by them. This roast is dedicated to one of our modern day inspirations: George Dennehy (or as he calls himself... That Armless Guy). George's story is one that started in a Romanian orphanage after being born without arms, and continues today as a picture of success as a speaker and musician who tours the world sharing a story of inspiration, hope and overcoming challenges. To learn more about George and his family, click here.